[Dec. 17, 2019] – The TRYP Pittsburgh has added technology from SONIFI Solutions. TRYP Pittsburgh is the city's first art hotel, displaying works by more than 30 local artists, located in the former Washington Education Center. Tryp's design and amenities are an extension of the Lawrenceville neighborhood it calls home. The five-floor hotel offers 108 rooms, as well as a wine shop, a coffee bar and two European-inspired restaurants, Over Eden and Brick Shop.
To complement the hotel's boutique experience, the hotel added SONIFI technology that delivers customized and personalized in-room guest experiences. SONIFI's STAY Interactive TV platform extends its brand and amenities with a customized interface, hotel-dedicated channels and a comprehensive hotel directory.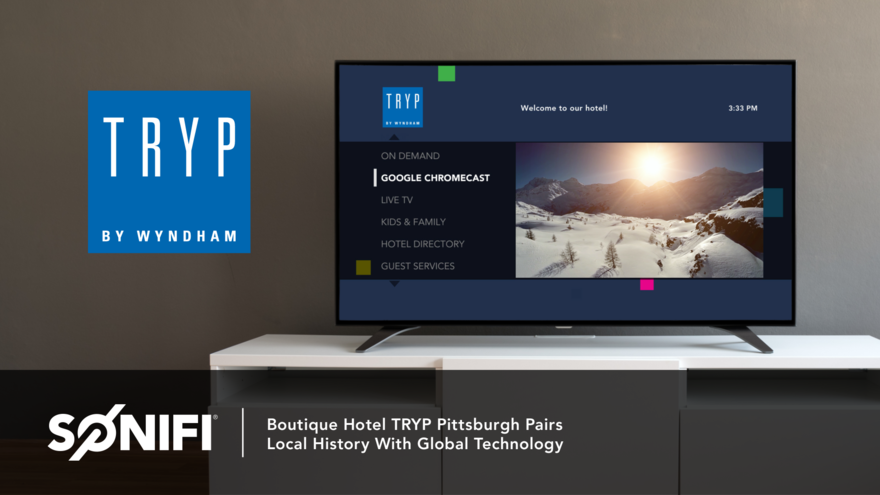 With STAYCAST powered by Google Chromecast, guests can stream content from more than 2,000 apps, including Netflix, Disney+, Amazon Prime Video and international apps, to the in-room TV directly from their devices. STAYCAST is found in more than 225,000 guestrooms around the world.
"SONIFI's technology is a great complement to TRYP's objectives," TRYP Pittsburgh GM Dan Zwirn said in a statement. "Having the ability to further promote our brand and amenities while delivering on the streaming expectations of today's guests brings TRYP to another level."
Read the full story on Hotel Management.