Press Release
Hershey Entertainment and Resorts' New TV Solution and Guest Internet Aids in Creating Unique Experiences
News
LOS ANGELES (Apr. 3, 2018) — SONIFI Solutions, Inc. recently completed in-room entertainment and guest Internet upgrades for the well-known getaway destinations of The Hotel Hershey and Hershey Lodge. The features of the new system allow the Hershey Entertainment & Resorts (HE&R) properties to provide modern guest conveniences such as fast guest Internet access, onscreen property information, in-room streaming via STAYCAST™ – powered by Google Chromecast and more.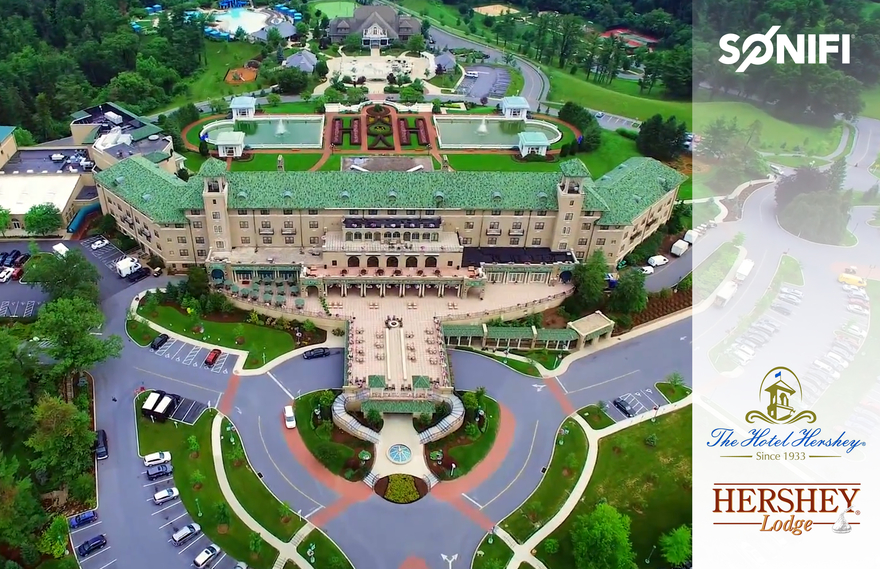 The Hotel Hershey, originally built during The Great Depression, maintains its historic charm without ignoring the modern and innovative. Guests on the property enjoy everything from playing croquet to Segway tours—and, of course, roasting s'mores or visiting what is affectionately called the "chocolate spa," The Spa At The Hotel Hershey. SONIFI's DOCSIS solutions allowed the Hotel to utilize coax cable for both TV and guest Internet upgrades eliminating the need for re-wiring construction or damaging any of the Hotel's historic ambiance.
Hershey Lodge features an indoor pool complex, recreation center, and lots of activities and dining options for families and other guests. The customizable hotel channels make it easy to communicate property amenities, area attraction and shuttle information to Hersheypark, as well as specific event details.
"SONIFI supports our goal to provide our guests with the same in-home entertainment experiences they are looking for in the comfort of their Hotel room.," said Greg Klopp, Managing Director, Information Technology, Hershey Entertainment & Resorts. "With these upgrades to our TV solution and Internet, they can find the services they are looking for or enjoy time in the room streaming their favorite shows."
"Our solutions are meant to enhance the guest experience at each specific property. Our solutions make it easy for hoteliers to update their content and communicate their unique offerings," said Nick Clessuras, SVP Sales at SONIFI. "The HE&R resort properties create wonderfully distinct stay options and we love seeing that flair amplified using the in-room TV."
View press release on Markets Insider.
. . .
SONIFI's technology at Hershey Entertainment & Resorts has also been featured on: