Press Release
STAYCAST Powered by Google Chromecast Set to Dominate Australian Guest Streaming Market with SONIFI Solutions – HoneyBadger Technologies Partnership
News
LOS ANGELES (April 23, 2018) — SONIFI Solutions Inc., announced a partnership with HoneyBadger Technologies today aimed at expanding the global availability of its guest streaming product, STAYCAST™ powered by Google Chromecast. HoneyBadger, powers solutions in more than 10,000 rooms across Australia, Fiji, and Samoa and will be able to implement solutions for SONIFI throughout the South Pacific region. This partnership is the latest surrounding the global distribution of SONIFI's game-changing guest streaming solution.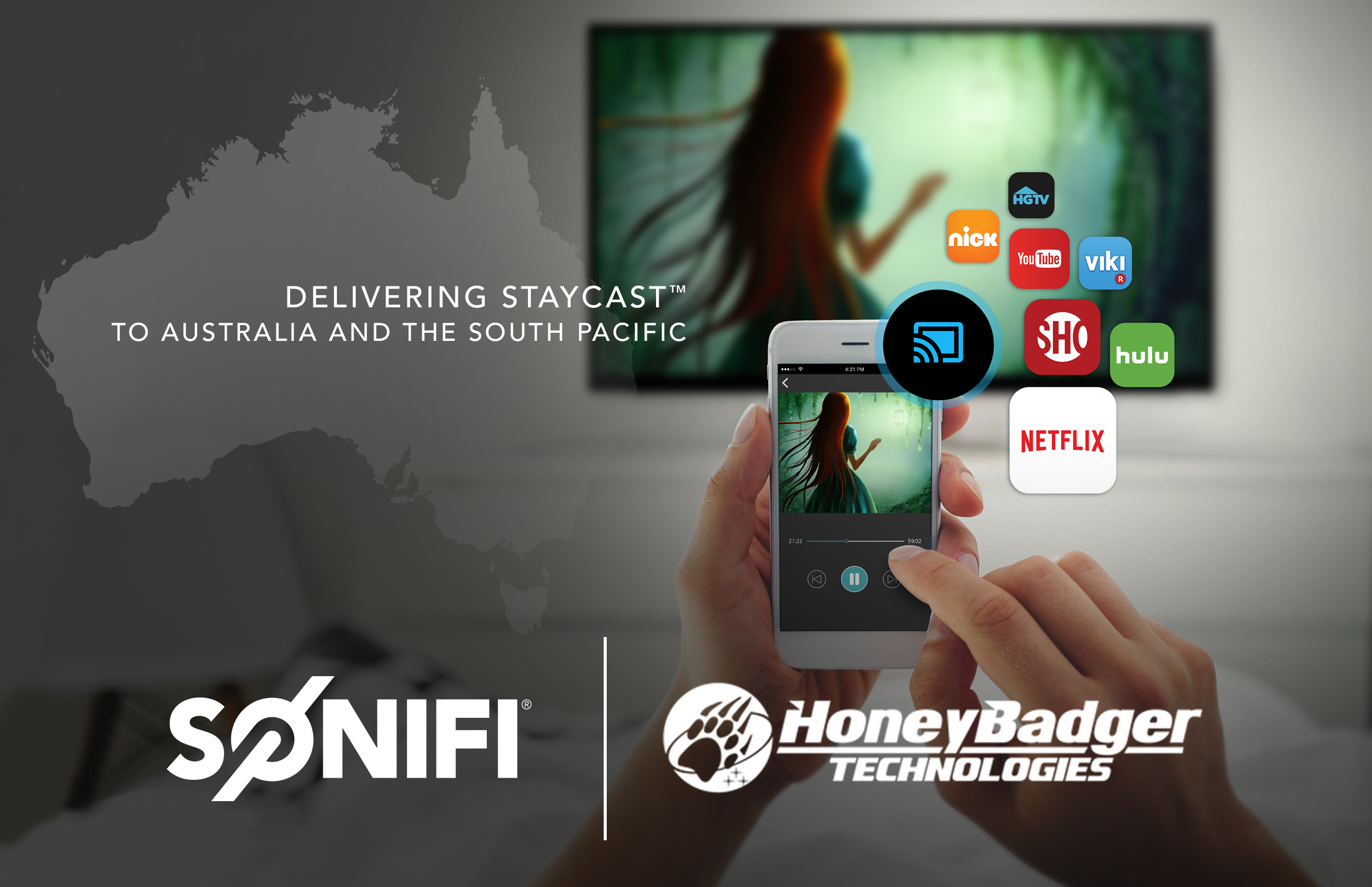 Considered the ultimate hospitality streaming experience, STAYCAST seamlessly connects to a hotel's existing TV infrastructure allowing guests to view their own content to the in-room TV. Guests do not have to enter any app credentials or personal information over the television since they use their own devices to access their favorite apps such as Netflix, BBC iPlayer, YouTube and 1000+ more.
"We're happy to be working with SONIFI," said Heinrich Saayman, CEO of HoneyBadger Technologies. "We have more than 11 years of experience in the industry and we're passionate about creating innovative entertainment solutions for our clients and their guests using digital technology."
HoneyBadger has already installed STAYCAST at the West Hotel Sydney, Curio Collection by Hilton. This sophisticated property is situated beside the iconic Darling Harbour and Barangaroo, Sydney's up-and-coming cultural hub. "Independent character and technology solutions are part of what we are known for, so STAYCAST is a great fit for our guests to access their favorite content from home," says Jane Lyons, General Manager for West Hotel Sydney, Curio Collection by Hilton.
"HoneyBadger is an exceptional partner for us," said Roy Kosuge, SVP of Sales & Marketing for SONIFI Solutions, Inc. "They field talented engineering and technical teams and their flexible and proactive approach of listening to clients fits well with SONIFI's philosophy of offering phenomenal customer support."
To learn more about HoneyBadger Technologies, visit their website: http://www.honeybadger.tech/
View press release on PR Newswire.