Guest and employee safety has always been paramount within the hospitality industry. But with the drastic impact of COVID-19, hotels around the world are adapting their business and amenities to ensure a new level of cleanliness and provide peace of mind.
From individual conversations to global advisory councils, SONIFI is actively working with customers on how SONIFI's platform and technology can help solve cleanliness and safety issues in a post COVID-19 environment.
SONIFI's Interactive solutions and features are being used to assist across a number of dimensions
Minimize physical contact:
In-room account review and check out
Reduces front desk contact with a simple in-room TV option
In-room dining
Offers the ability for guests to place food orders for room service via the in-room TV instead of a form or telephone
Guest request
Lets guests browse and order available items and services such as housekeeping, transportation, towels and more through the in-room TV or STAYCONNECT mobile app
Hotel directory
Provides a digital version of the in-room directory or compendium on a TV menu option, removing a paper touchpoint for guests
Alternatives to standard remotes: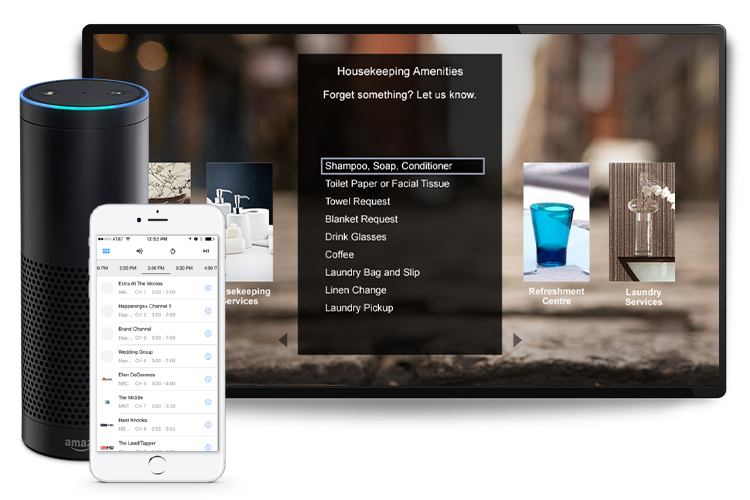 STAYCONNECT mobile app
Enables guests to control the in-room TV through their own mobile devices, eliminating the need to use the in-room TV remote control
Mobile API
Various TV control capabilities that can be built into the hotel's own app
Voice assistants
Allows guests to request services, find entertainment and get daily conveniences by simply talking to an in-room Amazon Alexa or Google Nest Hub
Anti-microbial remotes
Provides a germ-resistant coating that is easily disinfected
Communicate updates & best practices: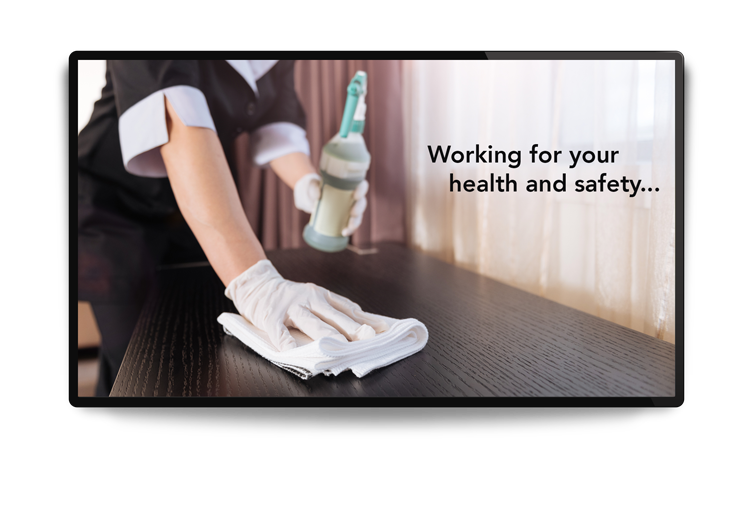 Happenings channels
Easily educates guests on cleanliness practices with these linear channels that play looped custom hotel videos and/or slides, editable in real time by hotels through the Customer Portal
Main menu and welcome videos
Automatically displays information at turn on about the property's post-COVID initiatives, cleanliness practices, and suggestions guests can apply to their daily life and during their visit
On-demand content
Broadcasts a specific library of content that could include health, wellness and well-being videos and education for guests
There is no doubt COVID-19 will forever change the hospitality industry on a global scale. No matter where SONIFI's customers are in their community's fight against the coronavirus and their strategies for recovery, one thing that has not changed is SONIFI's commitment to quality, safety, service and support.
SONIFI's support team is still available 24/7, our customer success specialists are here to discuss options and our field service team is on hand nationwide.
SONIFI is here for our customers now, and we'll be here for our customers on the other side of COVID-19, as well as for many years into what our industry's new normal brings.