Press Release
JW Marriott – Houston Downtown Accentuates Guest Experience with New In-Room Entertainment Solution
News
LOS ANGELES (June 15, 2018) — JW Marriott – Houston Downtown now features Marriott's Guest Room Entertainment solution including the Connect My Device feature which allows guests to use their own devices to stream content from thousands of apps to the in-room TV. SONIFI Solutions and AdcommTV, who were selected to provide the advanced technology and content, rapidly completed the installation allowing for this guest experience enhancement to be showcased during HITEC—the hospitality industry's premier conference occurring in Houston on June 18 – 21.
JW Marriott – Houston Downtown is iconic to the city. As Houston's first sky scraper, the "806 Main Building" has always been known for hosting the modern spirit of the community. JW Marriott preserves that tradition with its attention to design, local artists, and lifestyle-inspired guest accommodations.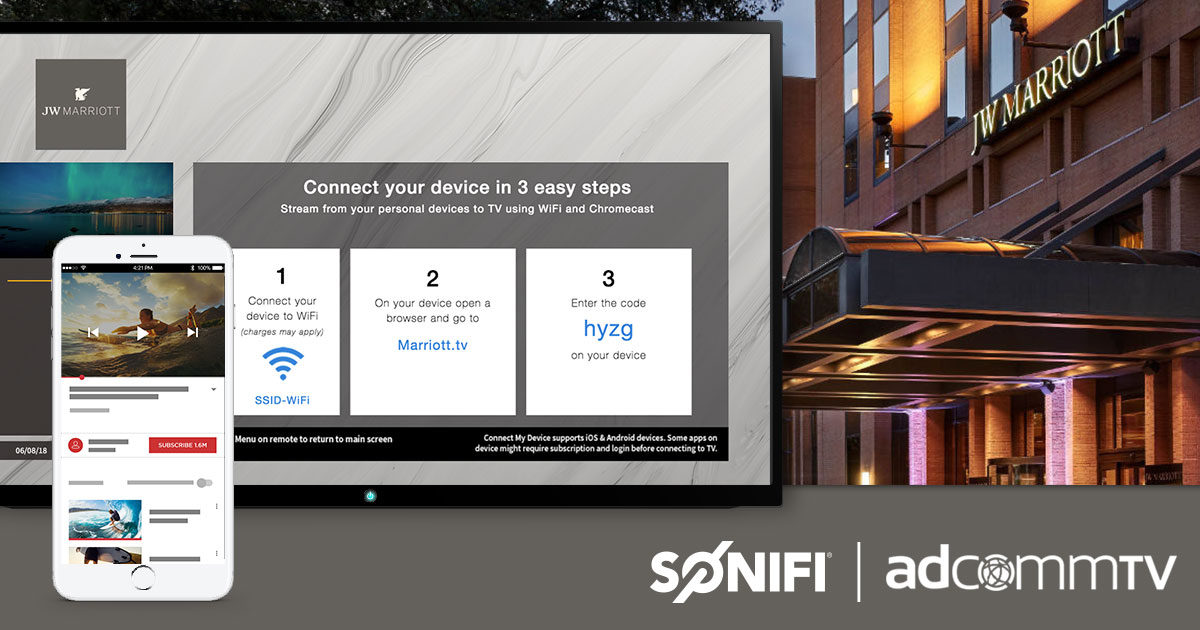 "Even with technology, we're thoughtful that it is welcoming, memorable and makes you feel at home," said Archit Sanghvi, Regional Vice President, Pearl Hospitality. "Having a personal greeting and access to your own content as well as the hotel information and local weather includes the TV as part of your stay experience. Relying on trusted industry providers like SONIFI and AdcommTV eliminates any worries about installation, uptime, or support."
"SONIFI, like Adcomm, is committed to providing a quality product for guests and unbeatable service for hoteliers so it was ideal to work together on this project," said Jason Cohen, SVP at AdcommTV.
"JW Marriott – Houston Downtown is a bellwether for modern luxury," said Roy Kosuge, Chief Commercial Officer for SONIFI, "and we're delighted to team up with AdcommTV to deliver a top tier guest experience."
Learn more about SONIFI's Marriott GRE offering: https://www.sonifi.com/marriott/index.php
View press release on PR Newswire.