LOS ANGELES (Oct. 3, 2017) — SONIFI Solutions Inc. is highlighting its recent successes with independent luxury hotels, with a look inside a recent Proper Hotel install at the hotelier's San Francisco property, Proper Hotel San Francisco, which celebrated its grand opening last month. The announcement was made today at the Boutique & Lifestyle Lodging Association's Stay BoutiqueTM Leadership Conference in Los Angeles.
Finely attuned to the city traveler, Proper Hotel San Francisco is a sophisticated-cool mix of 131 original rooms in a variety of configurations that combine the plush yet tailored design of Kelly Wearstler with a most careful selection of premium details and amenities tailored to the most discerning traveler.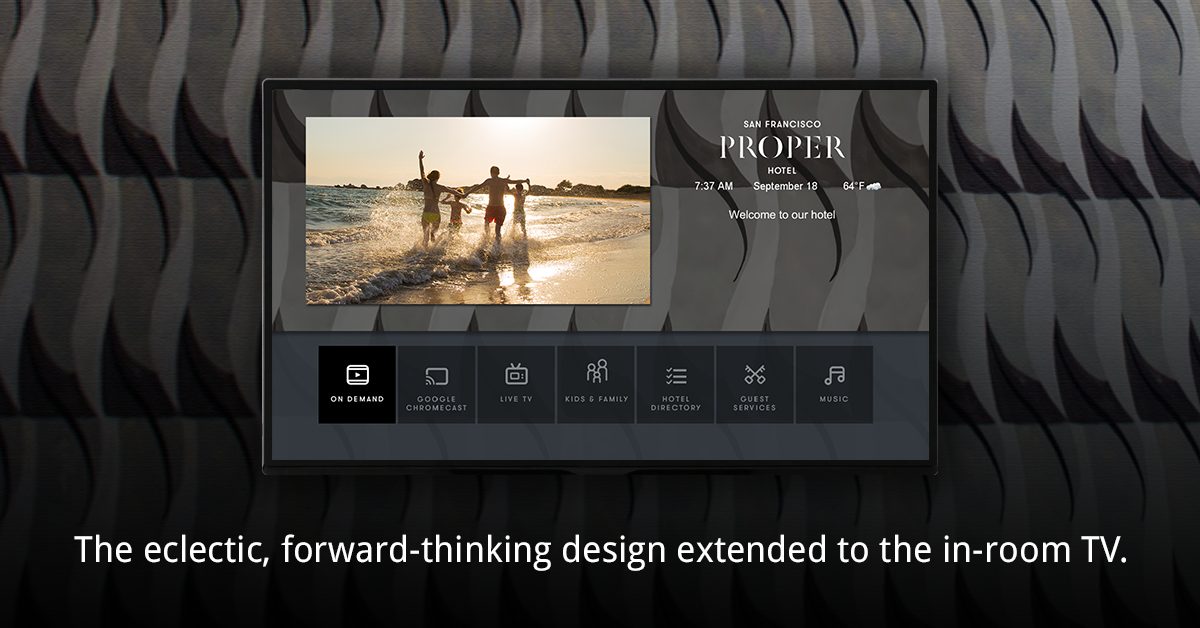 Proper Hotel San Francisco was a complete rebuild of a historic building located down the street from the new Twitter headquarters. The hotel is housed in a historic flatiron building in the heart of Mid-Market. SONIFI's installation, interfaces and execution at Proper Hotel San Francisco have been seamless. The solution is an IP based system that includes STAYCASTTM(streaming), iTV, Free-to-Guest, and Public Viewing. The SONIFI and Proper Hotel design teams worked closely together to create a distinctive, modern and memorable guest experience that complements the stunning guest rooms. This is the first install of SONIFI services with Proper Hotels, with installs planned at five other properties, three of which will open in 2018 and all to include the same attention to aesthetic detail.
"We pride ourselves on offering our guests the most advanced hospitality technology on the market, and found SONIFI to have the most feature-rich entertainment and guest engagement solution for independent luxury hotels," said Arash Azarbarzin, president and chief operating officer, Proper Hotel.
"Since we care as much about the aesthetics as we do about the technology, we worked closely with SONIFI to customize the menu, graphics and fonts to extend our eclectic, forward-thinking design sense to the in-room TV. Our guests will now have the opportunity to experience a broad array of entertainment, from still-in-theater movies to a streaming capability for 1,000+ apps, and other features that our luxury hotel guest has come to expect." Properties are located in Austin, TX, and California – downtown Los Angeles, Beverly Hills, Santa Monica, San Francisco and Palm Springs. All of these properties will include SONIFI's feature-rich entertainment and guest engagement solution.
View press release on PR Newswire.