LOS ANGELES (March 20, 2018) – Long known as an industry leader, Rosen Hotels & Resorts announces another first today with the installation of SONIFI® Solutions' world-class in-room entertainment. The 1501-guestroom Rosen Shingle Creek, 1334-guestroom Rosen Centre and the 800-guestroom Rosen Plaza are the first in Orlando to provide this upgraded service to its guests which includes interactive TV solutions and over-the-top streaming via STAYCAST – powered by Google Chromecast.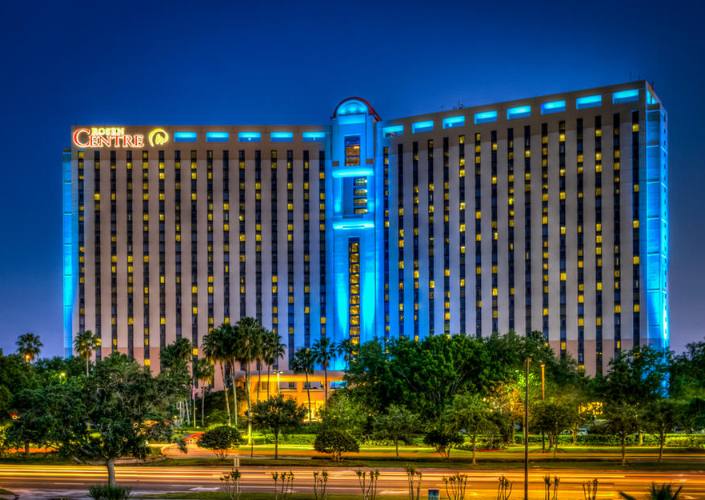 Now, through STAYCAST, guests can stream 1000+ apps – from Netflix and Hulu to YouTube and international apps – from their cell phones to their guestroom flat screen TVs, which avoids the need to disclose password information. The flexibility, increased security and expanded on-demand content is at the forefront of what Millennial and technical savvy travelers want and what all travelers will come to expect in the near future.
"This new service is something we know everyone will enjoy," said Leslie Menichini, Vice President of Sales & Marketing, Rosen Convention Hotels. "For our guests whom we value like family, the future is now. We are so pleased to provide this extended new technology."
SONIFI Solutions also will provide a new group messaging system. This will allow meeting and event planners to send mass messages, photos and video to their entire room block. Additionally, guests can use the new technology to order room service and to make housekeeping requests. The system also provides functions such as in-room check-out, which the hotels had previously provided.
In addition to the installation of the SONIFI System, the three convention hotels recently completed upgrades and enhancements to provide even more guest enjoyment. All three hotels feature multi-million dollar RFID locking systems for state-of-the-art security in guestrooms and meeting spaces and ballrooms. In addition, the AAA Four Diamond Rosen Shingle Creek's lobby and Headwaters Lounge were recently refreshed with new vibrant shades of sunshine orange and deep blues and now also feature numerous electrical ports for guests to conveniently recharge electronic devices. Rosen Centre completed a sophisticated renewal of its 1,334 guestrooms including suites, which now feature calming, spa-like hues and plenty of tech-friendly integrations to keep business travelers rested and recharged. For a unique, turnkey event space, Rosen Plaza's 5,000-square-foot 3NINE entertainment venue features full built-in AV, staging and lighting with no build-outs or expensive rentals needed.
View press release on PR Newswire.
. . .
SONIFI's technology at Orlando Rosen has also been featured on: