Touchless hotel technology
Solutions designed for the safety of guests & employees
At SONIFI, we are proud to have an array of options to help hotels communicate with their guests about what they are doing to keep them safe and to give them peace of mind. We offer the latest in touchless hotel technology to help hotels face hospitality's next normal.
Communication is key to providing guests with peace of mind about their safety during their stay. We enable hotels to add custom videos that they can add to their TV's main menu or their happenings channel that can be updated at any time. We help broadcast on-demand videos so guests can view educational and COVID-19 safety videos. As for the rest of the hotel, we offer digital signage throughout the property that helps hoteliers keep their guests updated as well.
Guests are looking for contactless options that minimizes or eliminates the need to touch in-room tech. SONIFI is dedicated to providing clean in-room solutions and a touchless guest experience.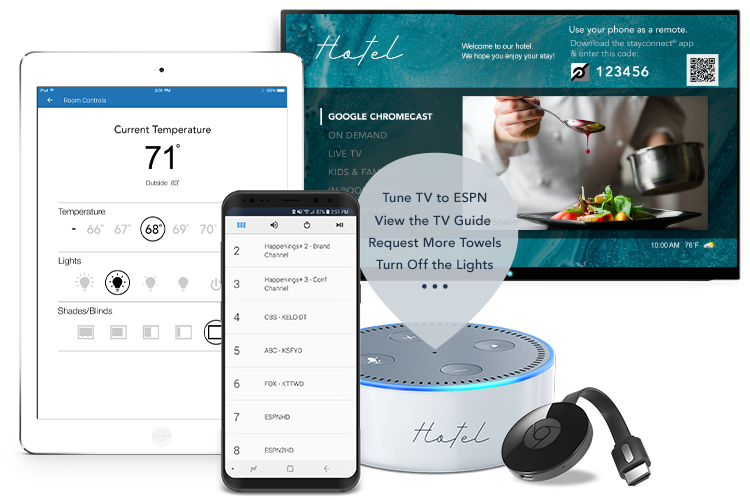 Mobile solutions – Our mobile solutions enable guests to cast content to their in-room TV by using their own device. Guests can also use their own device to control the TV's power, volume or change the channel without having to use the physical in-room remote control.
Interactive TV – Our interactive TV solutions let guests order room service or request hotel services without having to use the in-room phone.
Smart technology – Our smart room integrations enable guests to control the room through their voice. Changing the temperature or changes to the lighting are a few examples of what guests can control with just their voice.
Together, we can adapt and innovate to deliver touchless technology solutions to ensure a sanitary guest experience.
SONIFI is here for you
Your changing needs, our innovative solutions & unwavering support