[Dec. 26, 2018] Ahmad Ouri, Chief Executive Officer at SONIFI Solutions, shares his thoughts on the future of in-room technology with Hospitality Technology.
2019 looks to be a transformative technology year for hospitality. The phrase 'by 2020' has been attached to a lot of goals and initiatives—whether it be bringing outdated technology up to current standards or launching an innovative, new strategy. This is a year where we will see a real push to deliver on all the goals.
I don't have a crystal ball, but based on conversations with our clients, interactions with technology partners, and consumer trends here are my predictions for the coming year.
Internet & Wireless Infrastructure Will Remain Foundational
If a hotel has not yet upgraded its Internet and wireless infrastructure, 2019 will be the year to do it! Ever-growing video consumption combined with all the predicted new functionality will place additional burden on Wi-Fi. The nature of connected rooms and people generally traveling with more connected devices makes a good network design a must. Plus, an optimized Wi-Fi network provides more monetization options and can be leveraged to extend brand loyalty.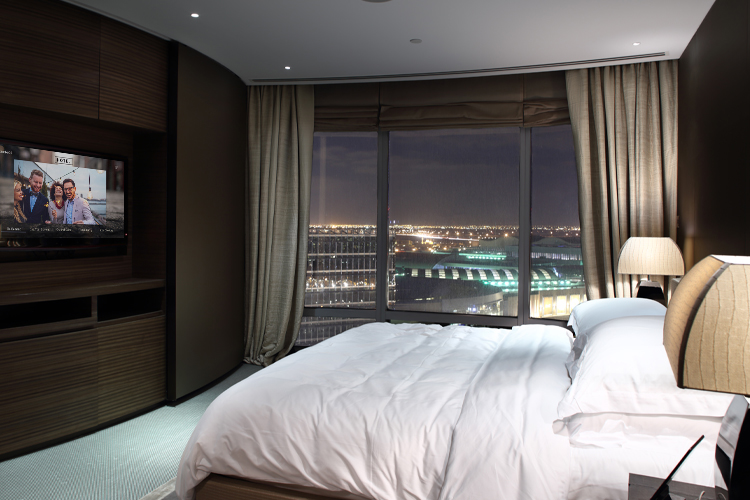 Hotel Rooms Continue to Become Smarter
Consumer products will continue to make their way to being commonplace in hospitality. Guests expect access to the same technologies they are already using in the comfort of their own homes.
Device streaming and on-demand/subscription-based video viewing is very common now in the home market. A vast number of U.S. households subscribe to at least one over-the-top (OTT) content service allowing them to view their favorite shows in a nonlinear format at their convenience when and where they would like. Guests anticipate an ability to consume video in a hotel room in the same way they do at home – whether it be on their own device or the in-room TV. In the hospitality sector, we expect another phenomenal year for streaming products, such as our STAYCAST, powered by Google Chromecast solution, not only because of the guest demand present but also because streaming in hotels is more complicated than setting up a device at home. Properties are realizing that dealing with privacy, security, and network complexities requires a qualified technology partner. In the coming year, many hotels and brands will implement a streaming strategy.
Other smart home devices will continue to make their way into hotel rooms. Voice assistants are increasingly popular in consumer homes and properties are finding creative ways to use the power of voice technology with guests. It serves as an option for in-room control of the television, blinds, thermostat and so forth. Voice also offers personalization and the intelligence to interact with guests. This makes it useful as a concierge or supportive brand representative.
Let Technology Work for You
Efficiency is another theme for 2019 technology trends—properties are looking for ways to use technology to improve workflow and help manage operating costs. Remote or automated management of in-room energy consumption is one exciting option in this category. Sophisticated occupancy sensors can save resources by turning off the lights, the TVs, and adjusting the temperature when guests are not in their rooms for extended periods of time. Hotel system integrations can also change in-room settings at checkout or upon check in. A word of caution on this operational efficiency domain – the technology needs to work very well and precisely to avoid delivering a poor guest experience in the process of reducing energy costs.
Cracking the Communication Code
A more nebulous realm for 2019 technology is communicating with guests. There is a lot of exploration taking place around the best way to engage a generation of tech-savvy guests. Texts to a mobile device, onscreen messaging, exchanges with chatbots, and personalized in-room details are all options. And with a nod to the Jetsons perhaps, robots are finally here (albeit it is in its early days)! They are delivering fresh towels, answering questions in the lobby, and taking drink orders. Much like days past when a person's first interaction with a new technology might occur at a hotel (e.g. color TV, remote controls, on demand movies), today's hotel are looking to offer travelers a 'wow' experience.
It is a thrilling time to be a technology provider and integration partner for the hospitality industry. Imagination has a lot of runway given the astounding rate of technological advancements.
Read the full story on Hospitality Technology.