[June 29, 2018] HITEC, the lodging industry's leading technology trade show, was held at the LEED Silver George R. Brown Convention Center in Houston June 18 to 21. Hospitality Financial and Technology Professionals (HFTP) just announced that the event broke barriers as the highest attended event in the association's history with over 6,650 attendees. There were approximately 400 exhibitors, many of whom displayed their latest innovations to help reduce energy consumption in the guestroom. SONIFI Solutions & Telkonet announced a collaboration that Green Lodging News covers on Hotel News Resource.
Telkonet's Symphony Commercial IoT Platform
Telkonet, Inc., creator of the EcoSmart platform of intelligent automation solutions, announced the release of its Symphony commercial IoT platform. Some of the key highlights of Symphony's capabilities include the ability to see all room devices, including door locks, lighting, mini bars, shades, etc. Symphony delivers an all-inclusive dashboard for all devices. The power to see a lock status, light levels, Do-Not-Disturb or request for housekeeping service, and panic alerts, are examples of visibility and control of third party device integration. When combined with the traditional energy management and automation attributes including temperature, set point, fan speeds, HVAC alerts, seasonal profiles, and PMS integration through one platform, Symphony delivers a fully scalable solution.
Through the use of a dedicated commissioning and reporting tool, Symphony now provides the ability to easily deploy IoT devices through a WYSIWYG graphical editor and template driven integration process. Within minutes of installation, all devices in the room are connected, communicating and reporting. The tool also executes a final test and report that confirms all features of the system are functioning, including the equipment that the devices are connected to. This final report provides operators confidence that a system is 100 percent functioning upon deployment while also learning of any preexisting conditions based on the report's findings.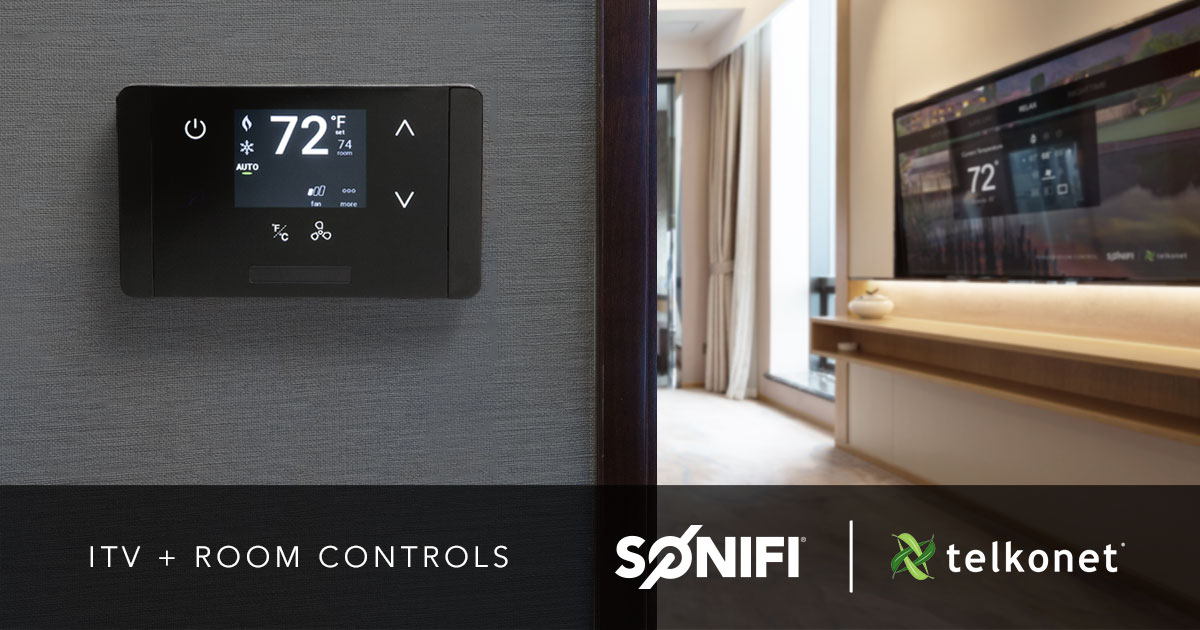 Just prior to HITEC, SONIFI Solutions announced a collaboration with Telkonet, Inc. to make hotel rooms smarter and more connected, by combining energy management solutions with in-room guest entertainment systems. Guests have the ability to change in-room environmental settings via SONIFI's STAY Interactive Television interface.
Telkonet also announced it has teamed with Volara, a voice-based hotel guest engagement solution that turns voice into a hospitality business tool. Together, they now offer a hospitality environment in which guests can use voice commands to control intelligent in-room devices and platforms to set scenes within their own hotel rooms. These scenes are able to incorporate one device or many different devices to create the exact environment that a guest requests. Examples include changing temperatures, adjusting shades, dimming lights, adjusting the Do-Not-Disturb and Make-Up-Room signage and more.
Read the full story on Hotel News Resource.