LOS ANGELES (Mar. 5, 2019) – The Viceroy L'Ermitage Beverly Hills luxury hotel recently launched advanced guest room technology from SONIFI Solutions ushering in a more immersive guest experience through streaming, easy-to-use menus, and a newly designed and highly responsive remote control. Located just off Rodeo Drive's high-end and heavily trafficked shopping district, Viceroy L'Ermitage Beverly Hills has long distinguished itself by maintaining modern elegance in a comfortable, intimate setting. Through SONIFI's seamless and customizable technology, the five-star property is now capable of better accommodating guest needs while maintaining their privacy.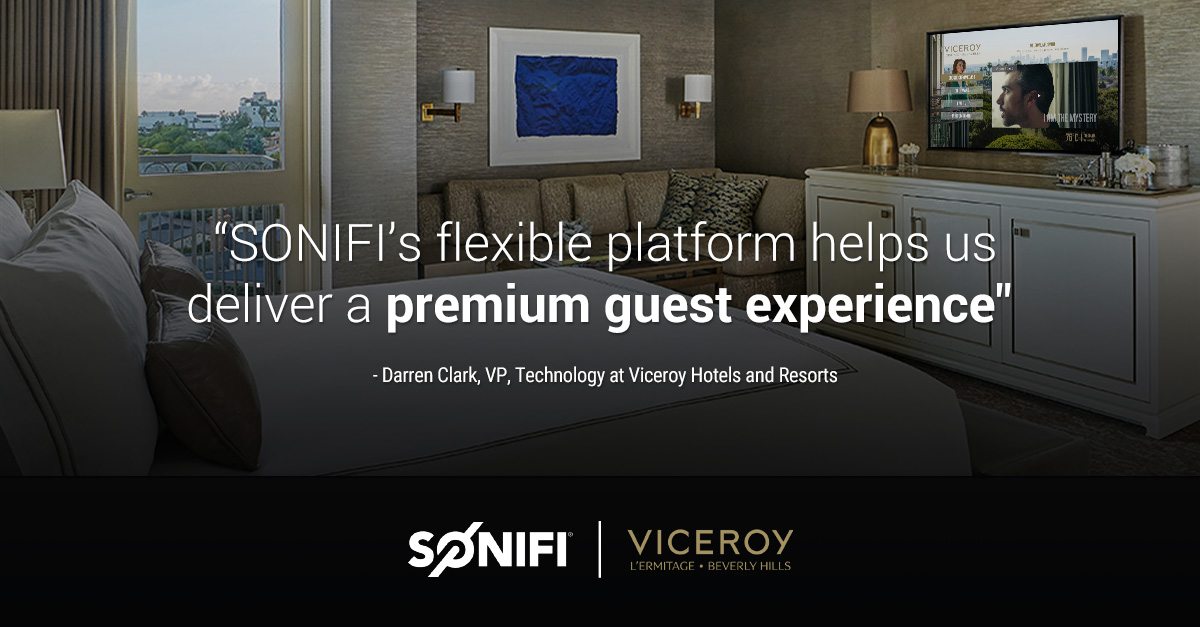 When guests of the Viceroy L'Ermitage Beverly Hills turn on the television, they are greeted by name with a powerful custom on-screen welcome message that visually amplifies the Viceroy brand. They also discover other convenient aspects such as hotel information, amenity details, and an interactive program guide for easy TV channel navigation.
STAYCASTTM, powered by Google Chromecast, offers guests nearly endless content choices with access to more than 2000+ streamable apps. Plus, added privacy and security features appeal directly to Hollywood A-listers frequenting Viceroy L'Ermitage Beverly Hills. These tailored features ensure privacy by allowing guests to forgo entering any logins or personal information into the TV system.
Both the in-room TV and mobile app, powered by SONIFI, provide interactive on-screen ordering options for in-room dining service from Avec Nous, the property's contemporary French bistro.
"L'Ermitage may be a classic iconic property, but our guests expect a technologically advanced experience," said Darren Clark, Vice President, Technology at Viceroy Hotels and Resorts. "SONIFI's flexible platform and industry knowledge help us deliver a premium guest experience to every screen in the room whether it's a flat screen on the wall, or an embedded TV behind the bathroom mirror. The ability for the guest to seamlessly cast their content such as Netflix, HBO etc. from their personal device to the TV is also a key feature for our guests."
"It's a pleasure to work with Viceroy and the staff at Viceroy L'Ermitage Beverly Hills. It was a great collaborative effort to imagine an immersive guest experience and then collectively bring it to life. We look forward to future collaborations to deliver memorable guest experiences and to amplify the Viceroy brand." says Nick Clessuras, SVP of Sales for SONIFI.
View press release on PR Newswire.
. . .
SONIFI's technology at the Viceroy L'Ermitage Beverly Hills has also been featured on: